CanVasc is the Canadian network for research on vasculitides. It was created in November 2010 by Drs. Pagnoux, Carette and Khalidi. The first task was to identify referral medical centers and physicians across Canada with expertise in vasculitis  (core members, and referral centers).
Goals of CanVasc are to help conduct studies on vasculitis, provide clinical support and educational material on vasculitis for physicians and health care professionals, optimize the therapeutic management of patients with these rare diseases, and, eventually improve their outcomes, wherever they live.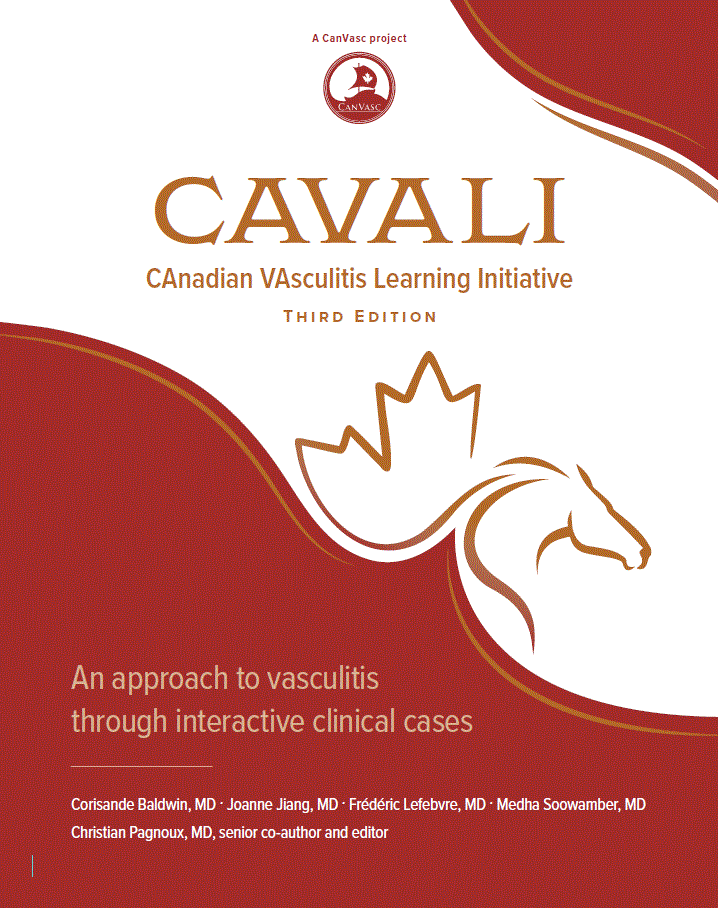 NEW Edition of CanVasc-CAVALI Book
CanVasc printed out in 2017 its first educational book on vasculitides (400 ex.), based on practical clinical case-scenarios, the CAVALI book (CanVasc learning initiative). An updated edition was printed in 2019 (800 ex.) and books were sent out again to CanVasc centers. A pdf copy of the second version was then also available and sent on demand to health care providers. Books, as hard copies or pdfs, were provided for free to residents and physicians.
The 3rd edition is now available, as an upgraded e-book! Its content has been fully updated and includes 2 new cases. More information on the CAVALI dedicated page.
CanVasc recommendations for the use of avacopan in AAV: 2022 addendum
CanVasc is the first vasculitis group in the world to have developed and publish consensus recommendations on how to use avacopan in patients with severe ANCA-associated vasculitis (GPA or MPA), in the Canadian health care environment. This new drug was approved in April 2022 by Health Canada. This new set of recommendations implements the previous more global CanVasc sets, developed in 2016, and already updated once in 2019 (see Tool page here). 
CanVasc 2023 WEBINAR SERIES !
CanVasc started in 2020 to hold webinars on vasculitis, and will continues to do so in 2023.
The last webinar was held in February 2023, with Drs. B Terrier and C Pagnoux on the recent French Vasculitis Study Group (FVSG) studies.
Previous recorded CanVasc webinars can be accessed on the Webinars page!
CanVasc and Canada VF created NEW patient info sheets!!!
CanVasc, with Dr. J. Jiang (rheumatologist, London, ON) as the lead author, developed with Canada VF (the Canadian patient support group), new information sheets for patients on the main vasculitides and a "passport to care".
These tools should facilitate the comprehension and increase awareness about these diseases, and help for the ongoing management and care of the patients.
Review studies on vasculitis actively recruiting in Canada
Several studies on vasculitis are ongoing across the world, including in several Canadian centers. Have an overview of these latter ones, including ARAMIS, CUTIS, ABROGATE and TAPIR on the study webpage and determine whether your patients could participate in any of them.
PATIENTS can also ENROLL THEMSELVES DIRECTLY into the VCRC contact registry and V-PPRN research network! Several studies are ongoing already with the participation of  North American patients, including some led by CanVasc researchers! Get more information on this very innovative way to conduct patient-driven research on the V-PPRN page.
Register to become a CanVasc member
If you are a health care provider interested in vasculitis and CanVasc activities, you can register by filling out the registration form (link below). At this time, membership is free and does not imply anything (please note that core, associated and affiliated member status are for physicians already identified by the CanVasc bureau).
You may receive occasional information by email on the CanVasc activities, meetings or studies. CanVasc is a non-profit scientific network. You will not receive any unsollicited mailing from other companies or groups.