Vasculitides
Vasculitides are a group of diseases, all potentially life-threatening and/or affecting vital organs, like heart, lungs or brain, with frequent irreversible damage. With prompt and adapted treatment, the survival at 1 year exceeds 90%, thus the importance to recognize these diseases and refer patients to experienced centers for their management.
Vasculitides are characterized by inflammation of vessel walls , mainly arteries, but sometimes also veins, with or without fibrinoid necrosis and/or granulomas. They can be secondary (to several infections, but also other systemic diseases or cancers, or occur as a reaction to medications or toxic exposures, like levamisole-tainted cocaine). Since the 1994 Chapel Hill nomenclature, primary vasculitides are classified based on the size of the predominantly affected vessels: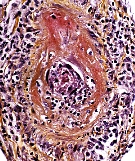 Large vessel vasculitides affect the aorta and its major branches and include two main conditions: Giant Cell Arteritis which is seen almost exclusively in individuals older than 50 years and which can cause irreversible blindness in up to 15-20 percent of the cases, and Takayasu's arteritis, which affects mostly women younger than 40 years-old and can cause arterial limb claudication and/or strokes.
Medium vessel vasculitides include Polyarteritis Nodosa which can affect individuals of all ages and cause infarctions of multiple organs, including the gut, kidneys, heart, muscle and nerves. Before the development of anti-hepatitis B virus vaccine, and the subsequent massive worldwide vaccination campaigns, more than half the cases of polyarteritis nodosa were due to HBV infection. In contrast, Kawasaki Disease is seen mostly in children younger than 4 years-old it has a predilection for the coronary arteries.
Small vessel vasculitides include several entities. The most "famous" ones are associated with the presence of antineutrophil cytoplasm antibodies (ANCA) in the serum of affected patients (at least some of them). These ANCA-associated vasculitides include Granulomatosis with Polyangiitis (Wegener's) , Microscopic Polyangiitis and Eosinophilic granulomatosis with polyangiitis (Churg-Strauss syndrome). These diseases can cause pulmonary-renal syndrome which is characterized by lung hemorrhage and rapidly progressive renal failure. Non-ANCA small vessel vasculitides are called immune-complex mediated vasculitides and include different entities, like Henoch-Schönlein purpura, which is usually a self-limited disease mostly seen in children, and cryoglobulinemic vasculitis (most commonly associated with chronic hepatitis C virus infection). Anti-GBM (glomerular basement membrane) antibody disease (sometimes named Goodpasture disease when it affects lungs and kidney) has been recently included officially in the list of these vasculitides mainly affecting small sized vessel and causing renal disease (with linear deposition of antiGBM antibodies in the glomeruli) and/or alveolar hemorrhage.
Other vasculitides: Behcet's disease (or syndrome) is a particular vasculitis that can affect vessels of all sizes, including the veins. Isolated CNS vasculitis is an extremely challenging condition as it affects the vessels of the brain diffusely and can cause various clinical manifestations. Buerger's disease (obliterans thromboangiitis) causes digital ischemia and gangrenous lesions, due to medium- and small-sized artery vasculitis and thrombosis, but also superficial vein thromboses and concerns almost exclusively smokers (classified as a medium-sized vessel vasculitis in Japan.
Large Vessel Vasculitis (LVV): Takayasu Arteritis (TAK) and Giant Cell Arteritis (GCA)
Medium Vessel Vasculitis (MVV): Polyarteritis Nodosa (PAN) and Kawasaki Disease (KD)
Small Vessel Vasculitis (SVV):

ANCA-Associated Vasculitis (AAV) including: Microscopic Polyangiitis (MPA), Granulomatosis with Polyangiitis (Wegener's) (GPA) and Eosinophilic Granulomatosis with Polyangiitis (Churg Strauss) (EGPA)
Immune Complex SVV including: Anti-GBM Disease, Cryoglobulinemic Vasculitis, IgA Vasculitis (Henoch-Schönlein) (IgAV) and Hypocomplementemic Urticarial Vasculitis (Anti-C1q Vasculitis) (HUV).

Variable Vessel Vasculitis (VVV): Behçet's Disease (BD) and Cogan's Syndrome (CS).
Single Organ Vasculitis (SOV): Cutaneous Leukocytoclastic Angiitis, Cutaneous Arteritis, Primary CNS Vasculitis and Isolated Aortitis.
Vasculitis Associated with Systemic Disease: Lupus Vasculitis, Rheumatoid Vasculitis and Sarcoid Vasculitis.
Vasculitis Associated with Probable Etiology: Hepatitis C Virus-Associated Cryoglobulinemic Vasculitis, Hepatitis B Virus-Associated Vasculitis, Syphilis-Associated Aortitis, Serum Sickness-Associated Immune Complex Vasculitis, Drug-Associated Immune Complex Vasculitis, Drug-Associated ANCA-Associated Vasculitis and Cancer-Associated Vasculitis. Genetically determined vasculitides (such as DADA2 or VEXAS) are a newer, and additional category in this group of secondary vasculitis.
Epidemiology
Vasculitides are rare diseases. There are only few epidemiological studies on vasculitides in adults in Canada, and only a few more have been done in the United States. However, based on European, Australian, New-Zealander and Japanese studies, one can estimate the overall prevalence and annual incidence ranges of primary vasculitides as follows:
| | | | | |
| --- | --- | --- | --- | --- |
| GCA | 500-7,500 (of population >50 y-o) | Crude estimates (only few specific studies: 144 in Reunion isle in 2018 with biopsy +; 753 in Sweden with biopsy + in 2015) | 80-300 (of population >50 y-o) | Down to 5 in Israel in late 1960s; 27 in Reunion isle 2005-2018; up to 370 in Norway in mid 1990s; 20 in subjetcs <60 and up to 520 in those >80 y-o in Minnesota; 79 in Paris in 2017 |
| Takayasu | 4 to 8 | 4.7 to 7 in the UK in early 2000s; Up to 40 in Japan (no epidemiological data for India, but probably at least the same) | 1 to 2 | Down to 0.4 in Germany; Up to 2.6 in Minnesota in late 1970s, and 3.3 in Kuwait |
| PAN | 6 to 30 | Up to >30 in late 1990s before HBV-related PAN almost disappeared | 0.9-6.8 | Up to 8 in the UK, 16 in Kuwait in the late 1990s, and 77 in Alaska in late 1980s (HBV endemy) |
| Kawasaki | – | Acute disease (in general, but damage) | 90-500 (of children <5 y-o) | Down to 16 in Czech republic in late 1990s; Up to 2,180 in Japan; in US, 91 in Caucasian vs. 320 in Asian children in early 2000s |
| GPA | 50-250 | Down to 23 in Paris in 2000, 30 in NYC in 1990; Up to 135 in the UK in 2013, 160 in Sweden in 2007, 201 in Germany in 2013-2016, and 260 in Norway in 2013-2015 | 5 to 30 | Down to almost 0 in Japan, 2.9 in Spain; Up to 11 in Australia and Minnesota; 14 in adults in the UK between 2000-2013, 15.6 in Norway (1999-2013), and 34 in Germany in 2013-2016 |
| MPA | 25-150 | Down to 25 In Paris in 2000; Up to 160 in Norway in 2015 | 5 to 15 | Down to 2.7 In Germany in 2000s;ip to 15 in Japan, and 24 in Kuwait, and 13 in Germany 2013-2016 |
| EGPA | 10 to 40 | Down to 7 in Germany in 1994; Up to 22 in Australia in 2004, and 42 in Norway in 2015 | 1 to 2 | Down to 0 in Japan; Up to 2.7 in the UK in late 1990s, 2.7 in Norway in 1999-2013, and 4 in Minnesota in late 1970s |
| Behçet | 10-500 | Extremely wide ethnic variations (from 6 in the UK in late 1970s to 4,200 in Turkey in 2000); 100-300 in US , mainly in immigrants; 24 in European-descent vs. 175 in Asian-descent vs 350 in Norh-African- descent French population | – | No precise estimation (chronic disease and wide geographical differences); around 4 in Minnesota in mid 2000s |
| CNS-V | – | No data | 2.4 | Only 1 study, in Minnesota |